there are places i'll remember all my life…
last weekend my mum came down to visit me. when i first moved down here i mostly looked upon her visit as an opportunity for shopping trips and meals out that i wouldnt have to pay for, but as time goes on i realise that maybe i should make an effort. so nowadays when she visits, i enjoy taking her to some really touristy places. ive taken her to the eye, to see parliament, and on river cruises. shes a small town girl after all, and they dont have big buildings, huge observation wheels, or even a starbucks where she comes from. plus i also love how doing touristy things opens up parts of the city you forget about when youre busy living your life here – it shows it in a different light, the light tourists see it in, and as far as i can tell, it can only make you appreciate the place even more.
so this time, we went on a Beatles walking tour. i picked up a leaflet for London Walks at my university of all places (yeah, one of the three days i was actually there this year….) and was quite excited at the range of tours they do, and the simplicity of it all (you basically just turn up at a specific place – usually a tube station – at a specific time, and away you all go). so my mum being a beatles fan, i thought the "beatles in my life" tour sounded perfect.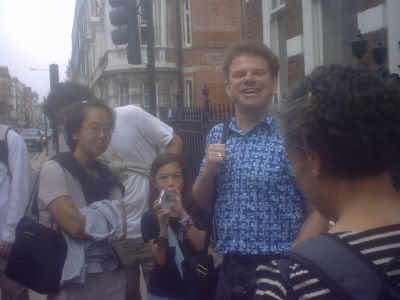 and here is everyone outside some house in marylebone where paul mccartney once spent more than five minutes in, intently listening to every word our odd little guide says. i cant remember his name, and to give him his dues, he did know an awful lot of probably useless information about the beatles. a bit too much, if you know what i mean. he was very proud to show us the church where paul mccartney got married in – yes the very same church he got married in last year – and if you can just make it out, thats the fab four themselves printed all over his shirt….
still, my mum was overjoyed to make it to abbey road…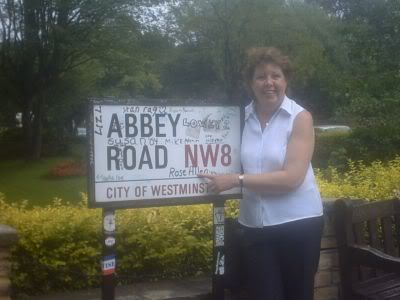 and even though they do have zebra crossings where shes from, she still very much enjoyed crossing the famous crossing. several times.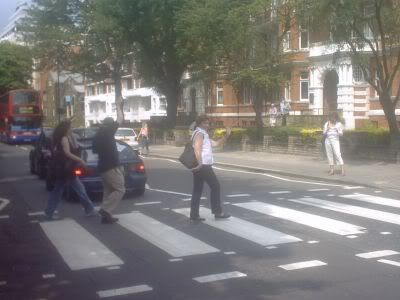 so if any beatles fans reading this wanted to see where paul got married, or where john almost got arrested once, or a lot of tourists stopping traffic by crossing the busiest zebra crossing in the world – and dont mind a slightly too obsessed tour guide with a funny voice, the Beatles "in my life" walking tour comes highly recommended.