Where am I?
Last Sunday, I went with my family to East Ham, on our usual bi-monthly visit to the local temple. When we turned right from Sixth Avenue, into Church Road, my husband had to hit the brakes hard. Partly because there were loads of people everywhere, but more so 'cos for a minute, I am sure he was asking himself where he was. I sure was, 'cos for a minute I was wondering if I still was in London or had I been mysteriously transported to Chennai (in South India; my hometown).
What greeted us was this huge throng of people – regular devotees, policemen and women, priests from the temple and in the background, making its way majestically towards us, the temple chariot. We did get the leaflet, giving us details of the temple's Chariot Festival and it was for this reason we chose to make our way to the temple on that particular day, as a sort of a double whammy but we weren't expecting this sight to greet us!

I took pictures of some things that struck me as quite funny and some, a sign of the times we live in. Here's an example: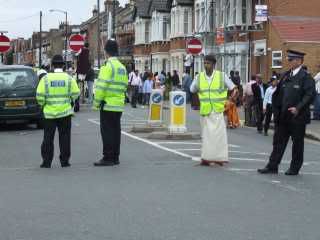 This pic was funny mainly due to the incongruity of a dhothi-clad volunteer, standing shoulder to shoulder with the official-looking policemen.
A picture of the chariot, with some locals in front, to show you what I am talking about.
A reminder of the current volatile situation: armed policemen waiting in this van, right outside the temple.